My hubs had been asking me to make some of my delicious homemade cinnamon rolls for a week or two, and I finally got around to making them this past weekend. Oh how glad I am that he asked me to make them, because I have been in heaven enjoying their deliciousness! A few friends have asked me to share the recipe, so here you go:
I halved my original recipe because it makes a ton. This halved version made 16 huge cinnamon rolls filling both a 9x13 and an 8x8 inch dish.
Homemade Cinnamon Rolls
1 1/2 T yeast
1/3 c. warm water
Dash of sugar
Combine the ingredients above in your mixing bowl and let proof for approx. 15 minutes until puffy.
Add:
2 c. milk
1/2 c. shortening
1/2 c. sugar
3 eggs
1 T salt
1 T lemon juice (I used fresh squeezed orange juice since I planned on making an orange frosting.)
-I then switched to a kneading hook on my KitchenAid before adding the flour. Add flour a cup at a time until the dough sticks together forming a ball and no longer sticks to the bowl. Don't add too much flour or your rolls will be tough instead of fluffy. I'm sorry I didn't keep track as a added, but I think it was somewhere around 4 cups, but I could be off.
-Cover bowl with tea towel or greased plastic wrap and let rise in a warm place until dough has doubled in size.
-When dough has doubled, flour your surface, and place dough in center. Knead 4-5 times, and roll out into a long rectangle.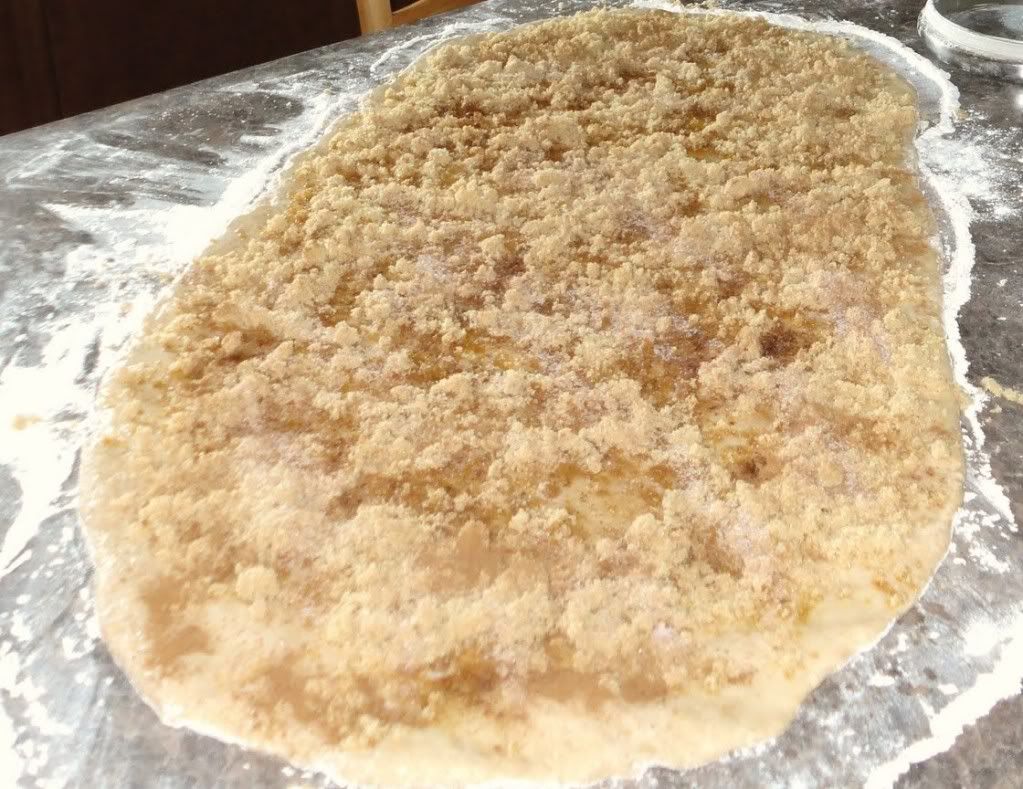 -Melt butter and spread on top of dough. Sprinkle brown sugar and cinnamon on top of melted butter. (I even grated some orange peel in there.)
-Roll up into a long roll. Cut into 16 rolls, about 2 inches thick.
-Grease pan and place rolls into pan squishing each roll down just a bit. Cover again and let rise for 30-60 minutes (however big and fluffy you want them to be)
-Bake in 350 degree oven for 20-30 minutes until lightly browned and no longer doughy.

Cream Cheese Orange Frosting
With electric beaters, mix 2 1/2 T cream cheese, 2-4 cups powdered sugar, 1-2 tsp. orange juice, and grated peel of one orange. Mix until smooth. I give ranges on each of these because I just added a bit at a time to taste. It's even better the next day because the orange peel gets more infused into the frosting- DELISH!
Now slather that frosting on your warm cinnamon roll and savor or devour each delicious bite!