This year for Halloween, we dressed up as characters from Peter Pan, including Jake from Jake and the Neverland Pirates. I could have bought a majority of the costumes, but that's not in my nature, and I feel like a lot of the store bought options were flimsy and wouldn't stand up to my kids after more than a couple wears. These costumes would be put into their dress up bins, so I wanted them to last.
Here are the portions of the costumes that I made.
Peter Pan:
I used
this post
on
Make It and Love It
as a guide. I made the leggings by just tracing some of my knit pants as a reference for size.
Jake:
I made the vest, head tie, and waist sash. The head tie and sash are just big rectangles with finished edges. For the vest I made a pattern on freezer paper, measuring my son as I went for size reference. I trimmed it out in yellow double fold binding, and added fabric covered buttons.
Tiger Lily:
I made a simple tutu, fringe arm cuffs, and a felt feather headband. The tutu is made by cutting long strips of tulle, folding them in half and sewing 1" from the folded edge. I did this with each tulle piece and then fed elastic through the casing. I sewed ribbon the the two ends so that it can adjust even more as she grows.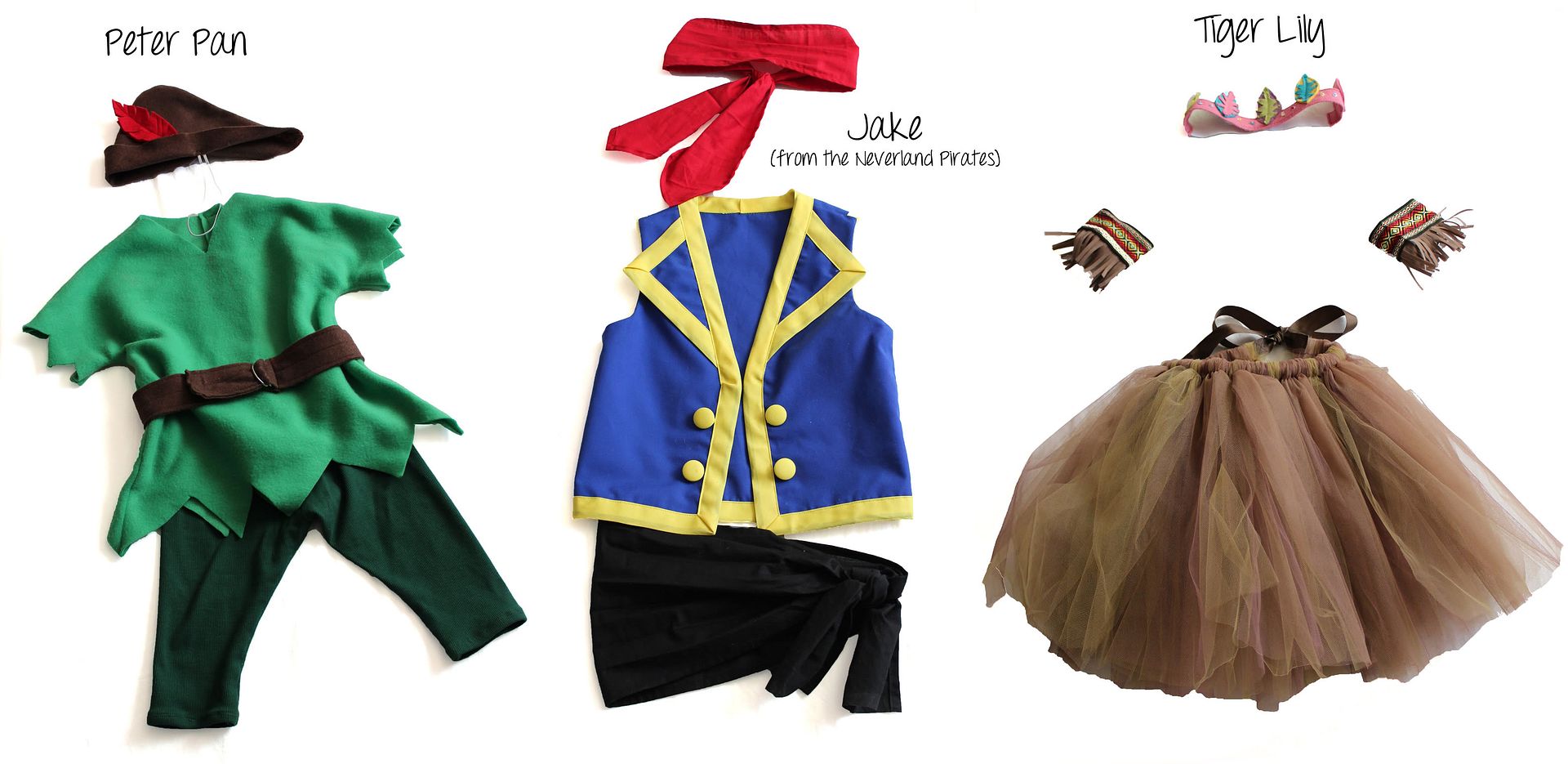 Tinkerbell:
I made a green tutu following the same method above.
For Tiger Lily's headdress, I made a cute wool felt elastic headband. I cut three pieces for each feather, two as the base, and one as the feather fringe- then I sewed all three layers together. I embellished the band with sequins and beads.
To finish their looks I added a shirt, cheap sweatpants, and boots to the Jake costume, I also made him a pirate map treat bad; a shirt and leggings to the Tiger Lily costume, I also wrapped her braids in leather cording; wings, a bun, and clothes of course to my Tinkerbell costume.
Sorry no pictures of me as Tinkerbell, but the kids are the cute ones anyways. They had fun running from house to house, and collected way too much candy. They costumes have already been put to use several times since Halloween, so I really do hope they hold up well!